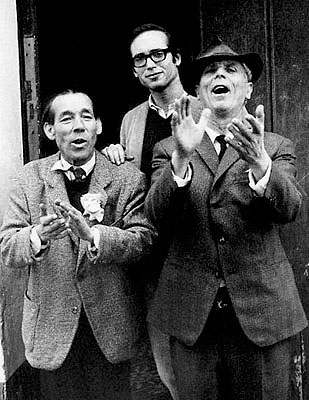 8th Annual Bay Area Flamenco Festival Presents: FLAMENCO PROJECT
A slideshow & roundtable discussion
Thursday, Sept 26, 7:00pm

: La Peña Cultural Center, Berkeley
Images from the acclaimed collection edited by guitarist/photographer 
Steve Kahn will spark discussion among a group of artists and 
flamenco aficionados who lived in Spain in the 1960s & 70s. 
Panelists include Steve Kahn, David Serva, Paul Shalmy, Jill Bacán,  
Mica Graña and Kenny Parker
Steve Kahn is an internationally known commercial and fine art photographer whose work has been exhibited, published and collected in both Europe and America. Already a student of classical and flamenco guitar in 1967, he traveled from New York to Morón de la Frontera, on leave-of-absence from a doctoral program in physics, in search of Diego del Gastor and the art of pueblo Flamenco. His 3-month break grew into a 2-year adventure that changed the course of his life. He lived amongst the flamenco artists, absorbing what he could of Diego's musical genius and made a few photographs before his camera was lost. Upon return to the states, he dropped out of academia to pursue a career as a freelance photographer.
Thirty-five years later he is still shooting pictures and still playing the guitar. Recently he started to wonder, "What happened to all those other photographs of Flamencos by foreigners that I have seen over the years? Are they lost, destroyed, forgotten and rotting in dark closets somewhere? Where are they now?" He set out on a quest to find those images, and over the past seven years has recovered over one hundred images, collected numerous anecdotes and digitized many wonderful fiesta recordings. Steve has brought both his music experience and photographic skills to make this collection into a superb body of work. He has digitized the original negatives, restored the images and made museum quality, archival prints for exhibition and preservation.                     Flamenco Project Website
BAY AREA FLAMENCO FESTIVAL
Founded in 2005, the Festival has grown into a popular and vital annual Bay Area cultural event. In addition to several days of live performances, lecture demos, film screenings workshops and master classes, various informal gatherings provide the opportunity for cultural exchange and create a context for sharing cultural traditions and experiencing flamenco in a genuinely interactive and spontaneous environment.
"In recent years, the San Francisco Bay Area has become a major U.S. conduit for Spain's greatest flamenco artists. […] There's really a vibrant scene here and Nina Menéndez has become a major force [as] the producer of the Bay Area Flamenco Festival."  -NPR The California Report
FESTIVAL FLAMENCO GITANO
The Bay Area Flamenco Festival under the artistic direction of it's founder, 
Nina Menéndez
, presents the annual 
FESTIVAL FLAMENCO GITANO,
 dedicated to presenting grassroots flamenco from the Gypsy communities of Spain. The UNESCO has recognized flamenco as a World Heritage Treasure, acknowledging the Spanish Gypsies' essential role in flamenco's evolution. Celebrating Spanish Gypsy music and dance as a living culture and a legacy of world stature, the Festival has presented some of the most important figures in the history of flamenco as well as prodigies from today's generation of artists.  In 2012 Festival Flamenco Gitano received a 
Special Honor from the Isadora Duncan Dance Awards
 for performances featuring a multigenerational group of tradition-bearers, heirs to a rich legacy of music and dance passed down through the families.
Artistic Director Nina Menendez explains: "These artists are bringing the Gitano essence of flamenco into the 21st century. They have an ease for improvisation that comes from living the art as part of everyday life and are able to express a full range of genuine emotion with unique personal style. No choreography is required, only an intimate connection among the dancers and musicians who interact freely on the basis of a shared legacy and an insatiable hunger to find the spark of duende that transforms the mundane into the sublime."
8th ANNUAL BAY AREA 
FLAMENCO FESTIVAL 2013
WEEKEND ONE:
CONCHA VARGAS 
Icon of Gypsy Flamenco Dance from Lebrija, Spain
Saturday, Sept. 21, 8pm

: La Peña Cultural Center, Berkeley
Sunday, Sept. 22

: Kuumbwa Jazz Center, Santa Cruz  
WEEKEND TWO:
Celebrating over 50 Years in Flamenco
DAVID SERVA 
Godfather of Bay Area Flamenco Guitar
with  Jose Gálvez "El Duende", Kina Méndez, Javier Heredia, Luis de la Tota
Friday, Sept 27, 8pm

: Kuumbwa Jazz Center, Santa Cruz   
Sunday, Sept 29, 8pm

: Freight & Salvage, Berkeley 
WEEKEND THREE:
GEMA MONEO
Rising Star of Gypsy Flamenco Dance 
from Jerez de la Frontera, Spain
Friday, Oct 4, 8pm

: Brava Theater, San Francisco   
Saturday, Oct 5, 8pm

:
Thrust Stage, Berkeley Repertory Theatre
Sunday, Oct. 6, 8pm

: Kuumbwa Jazz Center, Santa Cruz  
SPECIAL EVENT:
FLAMENCO PROJECT
A slideshow & roundtable discussion
Thursday, Sept 26, 7:30pm

: La Peña Cultural Center, Berkeley
Images from the collection edited by guitarist/photographer 
Steve Kahn will spark discussion among a group of artists and 
flamenco aficionados who lived in Spain in the 1960s & 70s. 
Panelists include Steve Kahn, David Serva, Paul Shalmy, Jill Bacán, 
Mica Graña and Kenny Parker.